"PIVOTAL MOMENTS" LEADERSHIP TREK SCOTTISH HIGHLANDS 29 – 31 MAR 21
SENIOR LEADERS – DITCH YOUR RUT IN 2.5 DAYS!
Are you a senior leader who feels stuck, lost, maybe trapped, and know you are on the cusp of change? Are you at a pivotal moment in your professional or personal life and need guidance and support to gain clarity on where you need to be and how to get there?
We are delighted to be partnering with Fulcrum Executive Coaching to co-facilitate a 2.5 day hotel-hopping leaders' journey through the Scottish Highland by boot, bike, and boat. Our route will take us from Balmaha on the shores of Loch Lomond to St Fillans on the shores of Loch Earn.
WHAT'S THE OFFER?
As we pull into the jetty at St Fillans at the end of our Pivotal Moments Leadership Trek together, you will have developed the clarity, confidence and energy to step off on the next leg of your own journey.
You will experience a safe, supportive, and inspiring environment in which to explore some fresh thinking, engage in fresh conversations and discover fresh perspectives.
You will also benefit from an enabling network which will support you beyond the trek and will help turn conversations into commitment and ultimately the real change you are seeking.
NOTE. There are only 6 places (but can be increased to accommodate a formed team). See foot of page for how to apply.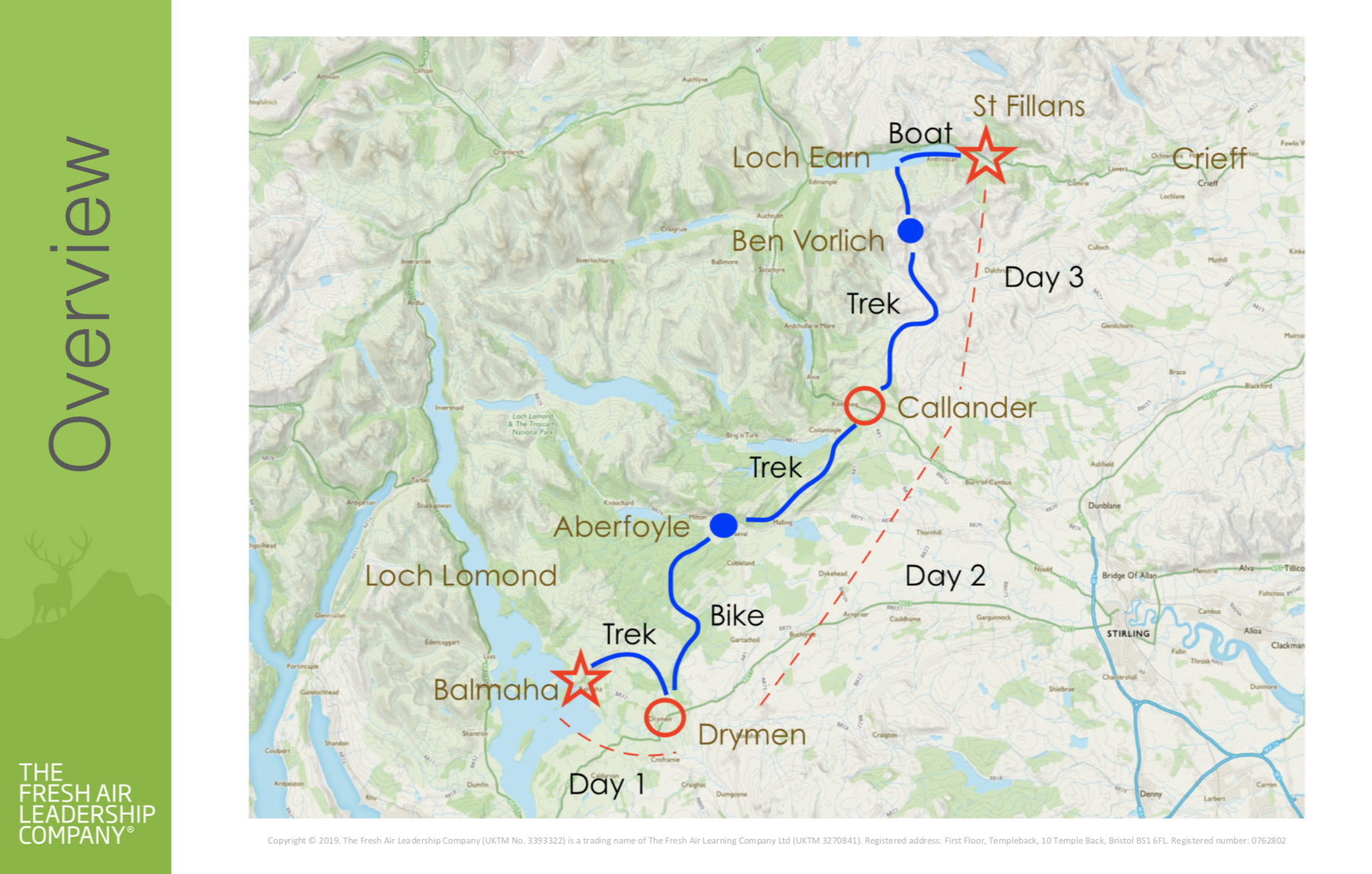 This is how we will deliver these outcomes for you:
2.5 days of structured coaching and a programme of mini masterclasses with plenty of space and time for 1-2-1 coaching conversations with two very experienced coaches – Kingsley Neill Founder of Fulcrum Executive Coaching and Dave Stewart MD The Fresh Air Leadership Company, and of course the rest of the group.
2 hours of follow up coaching by phone, Zoom, or in person subject to COVID measures and reasonable travel expenses.
2.5 days of guided walking, cycling, and boating through amazing Scottish landscapes with experienced and national governing body qualified leaders.
2 nights in hotels on a full board, double room, single occupancy, ensuite basis.
A dedicated support team drawn from operational mountain rescue personnel.
Loan of outdoor clothing as required, and provision of all specialist equipment (e.g. bikes, bike helmets, RIB boats, flotation vests).
Comprehensive pre-trek engagement to explore needs, hopes, and fears.
YOU WILL BE IN GREAT HANDS
The partnership between Fulcrum Executive Coaching and The Fresh Air Leadership Company brings together a powerful team of coaches and a specialist provider of bespoke thinking experiences for leaders and teams in amazing Scottish spaces.

We are all experienced leaders and trained/experienced coaches who are passionate about the work we do. We are also national governing body qualified outdoor leaders across the modes of travel we will be employing to support the creation of a safe and inspiring experience i.e. boot, bike, and boat.
YES, BUT…
I am worried about the COVID situation in Scotland. The trek will take place on the assumption that prevailing COVID rules allow it, and we will have a comprehensive COVID plan that takes latest rules into account. We will share this with you as part of the onboarding process. Also, know that the outdoors is very COVID-safe.
I am worried that the trip will be cancelled due to changes in COVID measures. Yes, this is possible. We will be monitoring the situation closely and if we have to cancel in the light of new COVID measures we will transfer your deposit onto a future trip. Note that we will still deliver 2 hours of one-to-one coaching regardless.  
What about bad weather? Actually, the weather can be amazing in Scotland at this time of year. In any event, the weather and our individual responses to it can be a tremendous source of learning. We will monitor this closely and amend daily routes and activities as necessary to ensure a safe and fulfilling experience.
I don't think I am fit enough.  On Day 1 we will be walking for around 4 hours at a pace that allows us to walk and talk comfortably. On Day 2 we will be cycling for around 2.5 hours, most of it on the level or downhill; and walking for around 4 hours, again at a walk and talk pace. On Day 3 we will be walking for around 4 – 6 hours. Depending on group fitness and weather conditions we will climb 600m to summit a Scottish Munro before a final boat ride to St Fillans, or we will take a valley route to the boat pick up point. In the first instance,  let's chat on the phone/Zoom to explore your fitness concerns and requirements.
It seems expensive. Whilst the price is not insignificant the quality of what is being delivered, and the safety and logistic support, is excellent. The value of the coaching alone – both on the trek and the follow up sessions – exceeds the price being offered. We believe the experience and the range of support on offer represents excellent value on a number of levels.
WHAT NOW?
If you don't want to miss out on one of the 6 places on this Pivotal Moments Leadership Trek for the price of £2,500 + VAT and discover the clarity and confidence around your next steps get in touch now so we can explore your needs and get you onboard. If your company wants to book out the whole trek, there is a £500 discount for each of places #5 and #6.
Call us on:
07776 153428 (Dave Stewart)
07555 054220 (Kingsley Neill)
or email us at:
Once we receive your 20% deposit (transferable to future treks if we have to cancel due to any changes in COVID measures) we will send you a comprehensive set of Joining Notes and invite you into the trek WhatsApp group.