FINDING YOUR MOJO IN AMAZING SCOTTISH SPACES!
Are you a senior leader who can no longer see the wood for the trees? Is your wellbeing taking a bashing? Are you losing your mojo? Do you need help to get through this?
Traditional coaching isn't working. Face to face. On the phone. On Zoom.  Always sitting. A clock always ticking. "Next please!"
What if there wasn't a clock ticking? What if you could feel the wind in your face, smell woodland scents, and hear the curlew's call across the moor? What of fragrant heather, the blood coursing through your veins, and the taste of a well-earned cup of hillside coffee?
What if your moments of insight were deeply anchored in unforgettable sights, sounds, aromas, tastes, and sensations? What if you could see more clearly, rediscover your mojo, and stride out with renewed energy and confidence?
Could a programme of off-road, off-clock, off-arse coaching be the difference you need?
WE ARE OFFERING A LIMITED NUMBER OF MICRO-ADVENTURE SCOTLAND COACHING PROGRAMMES
You can't afford to lose your mojo, so you are going to have to really want to do this. It is going to be a serious investment. For your business, your self-esteem and wellness, and for those around you.
Only a few will see it this way.  Will you?
An opportunity to spend unhurried time with an experienced leader-coach-mentor.
An opportunity to explore amazing Scottish spaces you haven't visited, or which you want to visit again.
An opportunity to breathe fresh air and reconnect with all the outdoors has to offer.
An opportunity for more clarity, greater confidence, and improved wellbeing.
Each programme is three sessions long with as much reasonable inter-session contact as you need. Each session is around four hours of 1-2-1 work and thinking time. And each session will be in a different but truly amazing and inspiring Scottish space.  All within 1.5 hours of Scotland's Central Belt.
BOOTS, BIKES, BOATS
What's more, we can work in boots, on bikes, in boats. Or in combination. Whatever will bring you alive and enable you to think and feel differently.
The emphasis is on unhurried movement. We will always move at a pace that allows for comfortable conversation. And we will stop lots.
We won't be yomping over mountains, and we won't be hugging trees.
YOU WILL BE IN GREAT HANDS
Founder and Managing Director, Dave Stewart is the lead coach for this programme.
With a first career in the British Army including Special Forces, and second careers leading at senior levels across private, public, and not-for-profit sectors, Dave is also an experienced coach, mentor, and consultant. He is also an experienced and qualified mountain leader and outdoor first aider.
You can read more about him here.
YES, BUT…
I am worried about COVID.  We have a comprehensive COVID plan that takes latest rules into account, and which we keep under review. The outdoors is a very COVID-safe environment.
What about bad weather?  We'll monitor this closely and amend routes and activities as necessary to ensure a safe and fulfilling experience. We'll make sure you have the right gear for the conditions. Your coach is also an experienced and qualified mountain leader and will have a shelter in his/her rucksack.
I don't think I am fit enough.  We will explore your fitness concerns at the outset and create sessions that deliver on your needs.
WHAT NOW?
Get in touch now if you don't want to miss out on one of the limited number of off-road, off-clock micro-adventure coaching programmes for £3,000 + VAT.
And if you want to take advantage of

the

20% discounted early bird price of £2,400 + VAT get in touch by 30th November 2020.
Could your team benefit too?
They can join you at £495 + VAT per colleague.
Call Dave Stewart on 07776 153428
or email dave@freshairleadership.com
When you get in touch, we will discuss your needs and agree the date and location for our first session. We will also ask you for a non-returnable deposit of one third of the programme price plus VAT. On completion of the first session, we will invoice you for the balance of the programme. If after our first session you don't want to continue there will be nothing further to pay.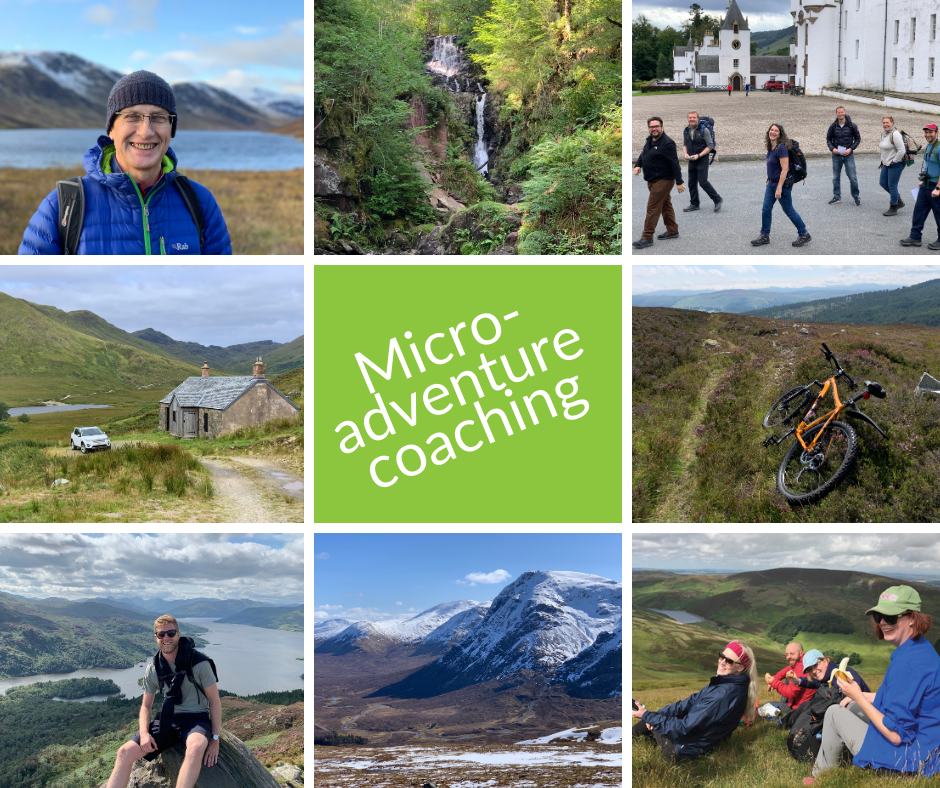 Leadership conversations that blend coaching, mentoring, consulting, and masterclass training