Leadership Coaching
You are a senior leader working inside a large business. Perhaps you are a business owner.
You have been coached before. Now you want different.
We're wise, kind, and the right side of ruthless. No better than other great coaches in the leadership development business. But different.
We come from diverse, high consequence backgrounds. Murder detectives, special forces, improvisation performers, hospital consultants, Everest summiteers, search and rescue helicopter pilots, and more.
We'll give you a damn good listening to, challenge your thinking, and hold you directly accountable for delivering on the insights that emerge when we work together.
Virtual Coaching
We offer a traditional coaching experience in blocks of 3 x 90 minute sessions by phone or Zoom plus in-between session check-ins and contact as required.
The price is £2,250 + VAT.
Face-to-Face Coaching
We offer face-to-face coaching  in blocks of 3 x 2 hour sessions. These can take place indoors or outdoors, or a blend of both.
The price is £3,750 + reasonable expenses + VAT.
Micro-Adventure Coaching,  Scotland
We also offer micro-adventure coaching and mentoring experiences around Scotland. These are blocks of 3 x 4 hour (yes, 4 hours!) sessions in different areas of amazing beauty i.e. a different amazing space for each session.
Not just an opportunity to spend time with an experienced leader-coach-mentor, this is also an opportunity to explore some of the spectacular Scottish landscapes and locations you have never quite got around to visiting, or which you want to visit again.
There are also considerable wellness elements to this sort of experience.
The emphasis is movement through these landscapes – by boot, bike, and/or boat – and NOT yomping OVER mountain summits. Your leader-coach-mentor will also be an experienced and qualified outdoor leader with an outdoor first aid qualification and appropriate insurances.
This is not boot camp, SAS Who Dares Wins, or Bear Grylls etc..
This is about the outdoors as a COVID-safe, nurturing, and inspiring work space beyond the office, home, and laptop!
"So, I will have to travel to these places? That will cost me time." Yes. That's right. You either want to do this, or you don't. 
"What if the weather is lousy?" We will work this through at the time. The only weather that will really get in our way is electric weather, dangerously high winds, and blizzards.
For the moment (October 2020) the price is £3,750 + reasonable expenses + VAT, the same price as the traditional half-duration face-to-face coaching block.
For a marginal cost of £250 + VAT per person you can bring others along who are part of the "system" you want our support to inquire into.
This can be a great opportunity to get your team together for some quality conversation around big issues. Our style of support in this instance will blend coaching and facilitation around an inquiry theme.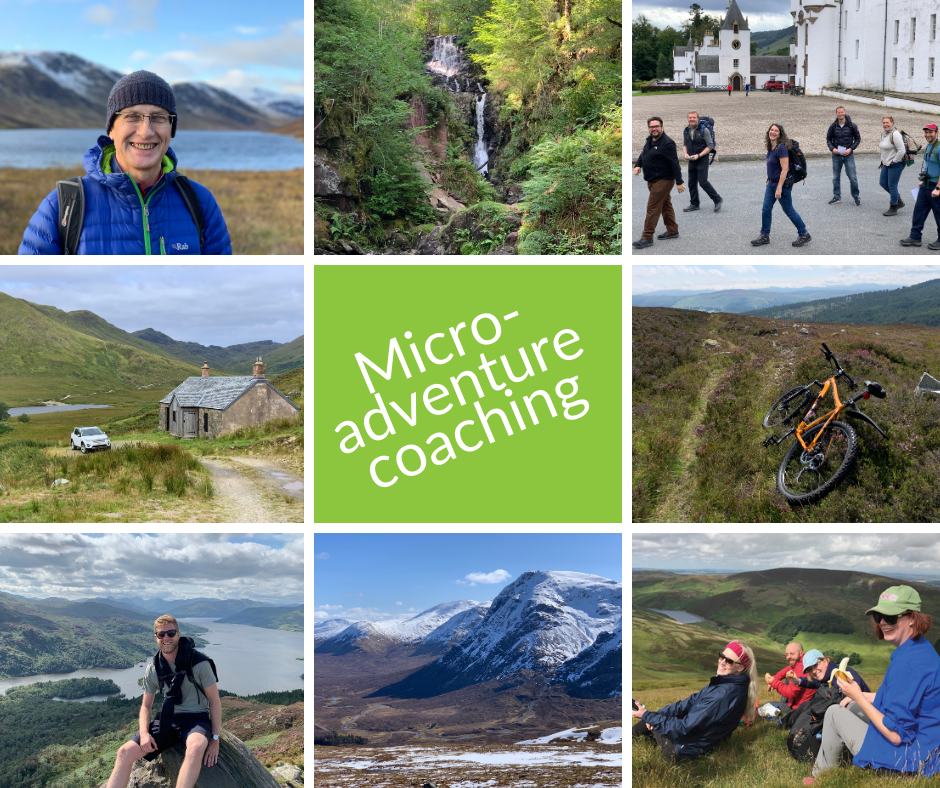 Leadership conversations that blend coaching, mentoring, consulting, and masterclass training