Hotel-hopping leadership journeys through amazing landscapes
You and the team are committed to some serious work and have devoted precious time away to think about how you need to operate together going forward.
Leadership Treks are ideal for exploring self-awareness and team dynamics, and flexing your collective thinking muscles around strategic topics.
For groups of individuals they also offer a great source of independent support and challenge.
Each Leadership Trek is a physical and metaphorical journey. Each day a different destination. And sometimes each day features a different mode of movement such as boot, bike, or boat. Each day a whole load of new insights.
We'll plan the coaching and facilitation around your goals and the needs of your group and take care of all the logistics. All you need to do is turn up and embrace what will be an unforgettable journey.
We have a number of treks scheduled for Spring and early Summer 2021. Why not book one out for your team now and take advantage of our New Year 2021 discount?
The price is £2,500 + VAT per head with a New Year 2021 discount of £1,000 per head for team members #6 and on up to a maximum of #12.
Mon 29 – Wed 31 Mar 21. Loch Lomond – St Fillans. See our Pivotal Moments Leadership Trek here!
Mon 12 – Wed 14 Apr 21. Loch Lomond – St Fillans.
Mon 26 – Fri 30 Apr 21. Bridge of Orchy – Glen Nevis, Fort William.
Mon 10 – Fri 14 May 21. Bridge of Orchy – Glen Nevis, Fort William.
Mon 24 – Fri 28 May 21. Bridge of Orchy – Glen Nevis, Fort William.
Mon 7 – Wed 9 Jun 21.  Loch Lomond – St Fillans.
Choose from one of these spectacular itineraries.
Itinerary 1 – Bridge of Orchy to Glen Nevis
This itinerary follows the northern section of the West Highland Way and takes in the wild open space of the Black Mount, the grandeur of Glencoe, and finishes at the foot of the UK's highest mountain, Ben Nevis.
Four nights hotel, three days trekking of 5 – 7 hours each day. All at a pace that supports great thinking and great conversations.
Dates:
Mon 26 – Fri 30 Apr 21
Mon 10 – Fri 14 May 21
Mon 24 – Fri 28 May 21

Itinerary 2 – Balmaha on Loch Lomond to St Fillans on Loch Earn
This itinerary follows the Highland fault line from the shores of Loch Lomond to the picturesque village of Callander before striking north over Ben Vorlich and down to Loch Earn and the village of St Fillans.
Two nights hotel, and two and half days of travel by boot, bike, and boat!
Dates: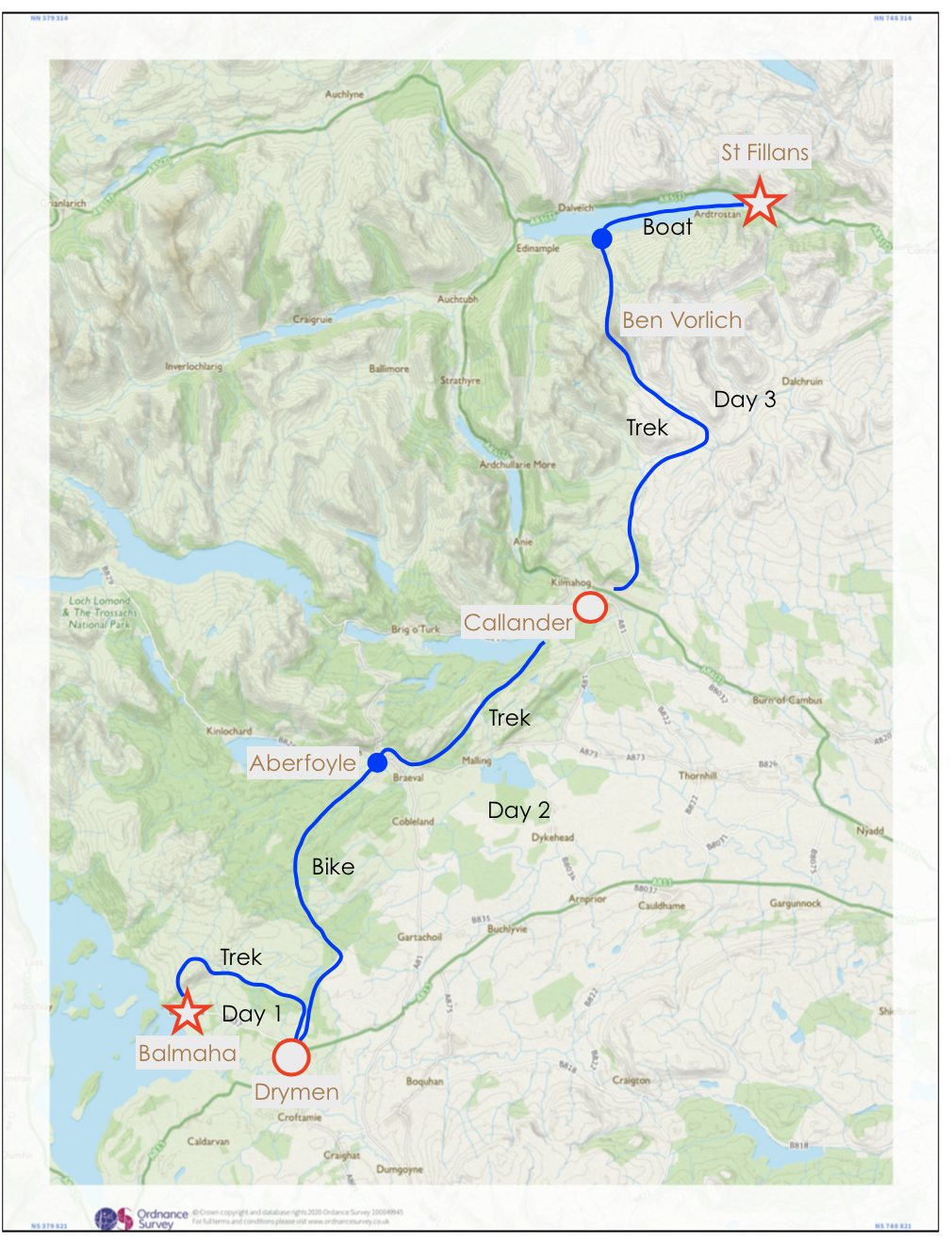 Good for
Teams and groups exploring and finding ways to work through personal and business change. Exploring self-awareness, team dynamics and getting match-fit for the future. Helping people discover their strengths and craft their personal development and change plans.
Case Study
Read here how one company weaved a Fresh Air Leadership Trek into a programme for their senior leaders.
Leadership treks can be delivered as a standalone experience, or as part of your tailormade leadership programme.