READY FOR A LEADERSHIP RESET?
A JOURNEY BY BOOT, BIKE, AND BOAT
SCOTTISH HIGHLANDS 20 – 22 SEP 21
ARE YOU A BUSINESS LEADER, LOOKING FOR SOMETHING OF A RESET OR REFRESH?
LET US TAKE YOU ON A HOTEL-HOPPING JOURNEY THROUGH SOME AMAZING SCOTTISH THINKING SPACES
BY BOOT, BIKE, AND BOAT
 £995 + VAT
FULL BOARD, ALL IN-TREK TRANSPORT
8 PLACES ONLY
HOW DOES IT WORK?
A physical and metaphorical hotel-hopping journey with as much or as little coaching and peer group mentoring as you want. Each day a different mode of movement through some of Scotland's most amazing landscapes.
MON 20 SEP:  A relaxed 4 hour afternoon walk from Balmaha on the shores of Loch Lomond over Conic Hill and through Garadhban Forest to our overnight stop in the village of Drymen.
TUE 21 SEP: A gentle, non-technical 6 hour bike ride on wide tracks through the forests and glens of Rob Roy country in the heart of the Trossachs to Aberfoyle where we will stop for a leisurely lunch. And then over to Loch Venachar and Callander, overnighting in nearby Dunblane.
WED 22 SEP: A relaxed 4 hour walk from Loch Lubnaig, through Glen Ample, to Loch Earn, and an exhilarating rigid inflatable boat ride along the length of Loch Earn to a waiting dram at journey's end at St Fillans.
ALL THE NATURE, HISTORY, WELCOMING SPIRIT, CONNECTION, AND ENRICHMENT YOU COULD SHAKE A PRICKLY THISTLE AT!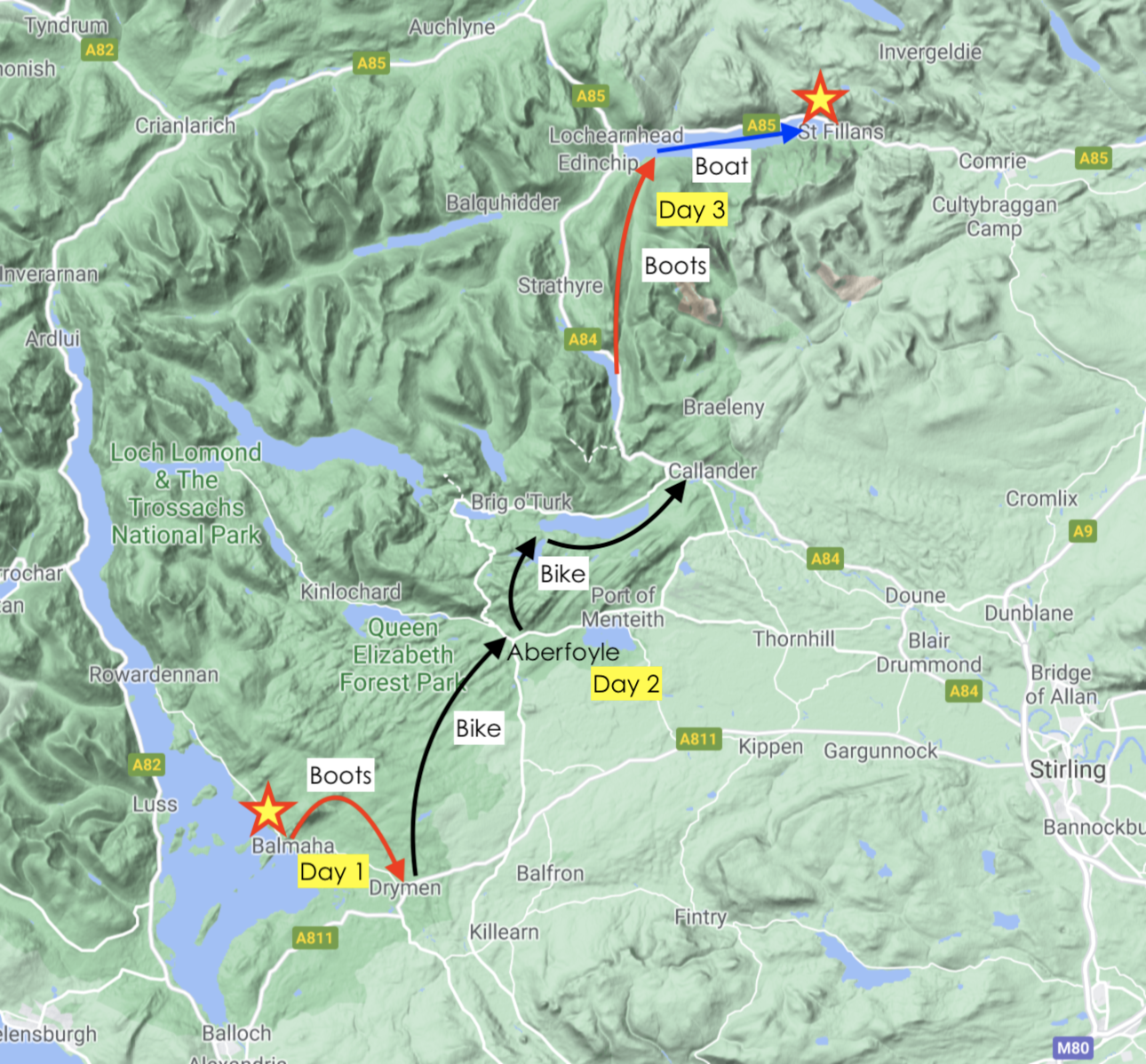 YOU WILL BE IN GREAT HANDS
We are all experienced leaders and experienced coaches who are passionate about the work we do. We are also national governing body qualified outdoor leaders across the modes of travel we will be employing to support the creation of a safe and inspiring experience.
YES, BUT…
I am worried about the COVID situation. The journey will take place on the assumption that prevailing COVID rules allow it, and we will have a comprehensive COVID plan that takes latest Scottish rules into account. We will share this with you as part of the onboarding process. Also, know that the outdoors is very COVID-safe.
I am worried that the trip will be cancelled due to changes in COVID measures. Yes, this is possible. We will be monitoring the situation closely and if we have to cancel in the light of new COVID measures we will refund what has not been invested to book staff, hotels, etc.. 
What about bad weather? Actually, the weather can be amazing in Scotland at this time of year. In any event, we will monitor this closely and amend daily routes and activities as necessary to ensure a safe and unforgettable experience.
I don't think I am fit enough.  The journey is all about conversation in amazing surroundings. We will always travel at a pace that enables this.  In the first instance,  let's chat on the phone/Zoom to explore your fitness concerns and requirements.
WHAT NOW?
IF YOU DON'T WANT TO MISS OUT ON ONE OF THE 8 PLACES ON THIS LEADERSHIP JOURNEY FOR THE PRICE OF £995 + VAT  GET IN TOUCH NOW.
Call me on
07776 153428
or email me at:
Once we receive your 50% non-returnable deposit we will send you a comprehensive set of Joining Notes and invite you into the trek WhatsApp group.
Dave Stewart
Managing Director
The Fresh Air Leadership Company